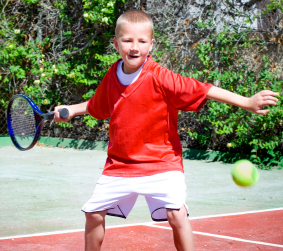 Tots is for children aged 3 to 5 years old, the game of tennis is delivered to tots through a variation of fun exercises that cover the ABC's of mini tennis-Agility, balance and co-ordination.
These exercises will encourage racket and ball skills, personal development as well as developing a basic knowledge of tennis.
Tots will play with softer tennis balls and mini rackets with the focus being on the enjoyment of the game rather than competitive elements.
Coaches and assistants at Activeace are keen to introduce younger players to the game of tennis, our encouraging, friendly and qualified staff will deliver tots tennis in a fun manner that will certainly be enjoyable for all abilities.